Ethos of Education at BIS
At BIS we provide a comprehensive education that focuses on the child's intellectual, social, physical and emotional well being. We follow the motto – "Raising  global citizens" – with the conviction that every individual on earth is a unique star with immense potential and learning ability that can and should be nurtured.
The driving philosophy at BIS is that with proper care and development, every child can grow up to be a respectable and responsible global citizen. Our purpose of education is to prepare the children to step into tomorrow with confidence and competence and think globally. We make a conscious decision to pay heed to the smaller deeds of the students' life and their academic progress. We ensure that all students are happy throughout their stay at the school and that they graduate with a positive attitude about life, having made new friends and felt accomplished in an ethical, productive, and driven atmosphere.
The Core values of Human Spirit are embedded in IB philosophy and the school works towards strengthening the same. The school discipline at BIS is mainly about instilling responsibility and self-control in the children over time. At BIS we aim to imbibe the following Core values: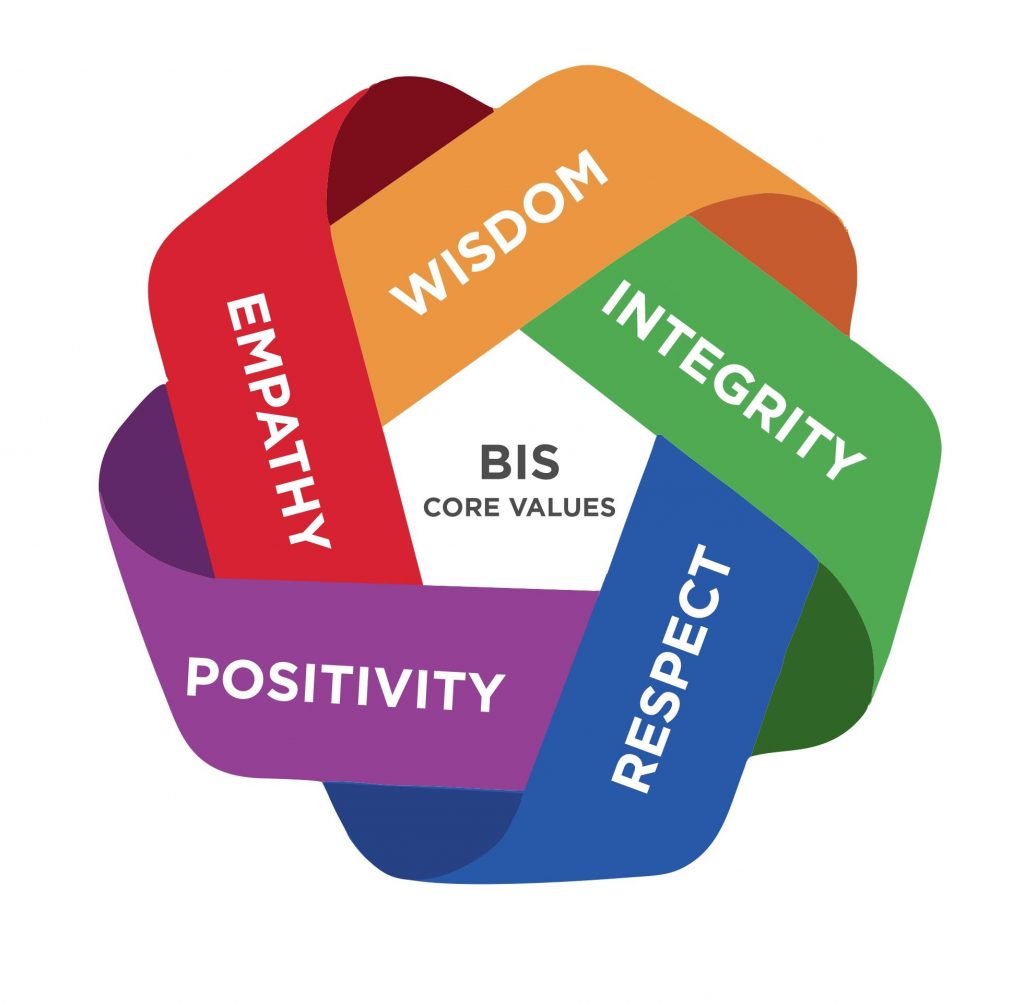 Wisdom
We acknowledge the wisdom of others while working hard to improve our own knowledge and enrichment. Wisdom helps us make informed decisions in life. We seek higher meaning through intuition, intelligence, and contemplation, and we use our introspective capacities to comprehend various circumstances. We use the acquired knowledge and transfer the learning for the greater good.
Integrity
We as a community are built on the foundations of Honesty and Trust. In every interaction we rely on good motives, commitments of fulfilment and genuinely. The members of our community act with honesty and uphold the greatest of values and ethics. We govern ourselves, take responsibility for our actions, and lead by example.
Respect
Respecting the norms, expectations and the members of the society are important to us. Equality, respect, and a willingness to serve and understand one another are the foundations of our interactions and relationships. We acknowledge that we have a responsibility of showcasing positive behaviour and compassion towards our families, communities, and the world around us.
Positivity:
We believe personal gratification and contentment are the direct outcome of positive belief and thoughts. It reflects our response to an everyday situation. We inspire our students to think positively by encouraging them, surrounding them with positive role models and giving them freedom to make mistakes and learn from them. We train our students to develop positive interactions regardless of the situation, which manifests a happy school environment. 
Empathy:
At our school empathy is considered one of the highly valued traits that is quintessential for a civilised person to possess. Acquired values are put into practice effectively by understanding the circumstances of fellow humans and catering to their needs. We take the responsibility of cultivating empathy within our school community, therefore nurturing global citizens.
We at BIS promote these attributes of IB Learner Profile across the school community by instilling them in our school culture. We aim to do the following:
As Inquirers
Learn with enthusiasm
Be independent lifelong learners
As Knowledgeable
Develop and use conceptual understanding
Explore and engage issues of local and global significance
As Thinkers
Analysing and taking responsible action
Exercise critical and creative thinking to analyse the problem
As Communicators
Express and collaborate confidently
Listen carefully to the perspectives
As Principled
Empathise news & respect others
Make a positive difference to the environment
As Open-Minded
Seek and evaluate a range of points of view.
Appreciate the values and traditions of others.
As Caring
Empathise & respect others
Make a positive difference to the environment
As Risk-Takers
Approach uncertainty with prudence and perseverance
Explore new ideas and strategies
As Balanced
Balancing intellectual, physical and emotional well being
Recognise your interdependence with others
As Reflective
Identify your strength and weakness
Consider your own ideas and experience thoughtfully
Well-being & Mindfulness at BIS